Since 1932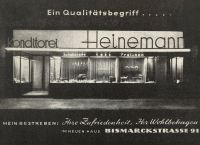 1957- Original store Mönchengladbach
Striving for Perfection
Hermann Heinemann discovered early on his passion for baking . He became a professional master pastry chef. One of his early masterpieces was the creation of the Herrentorte which quickly marched triumphantly even in its time. In 1932 he realized his dream and opened a confiserie with his wife in the Lower Rhine town of Mönchengladbach.
...freshly
Highest Quality and Freshness
Hermann Heinemann recognized the secret of creating sweet masterpieces. Even at the beginning he passed this on to his children: Use only the best ingredients: the freshest butter, first-class cream and the finest cocoa beans. Never use any preservatives, or you'll only have problems!
Heinz-Richard Heinemann, who followed his father in the business, became a master confectioner and pastry chef with federal certification. He trained in Paris, Lausanne, and Zürich and continued the tradition to achieve Highest Quality and Freshness. Each cake, each sweet, is a present witness to a long tradition.
...from hand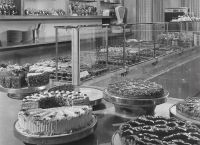 1954- Cakebuffet
Blending of Feeling and Attention
Heinemann's passion for exquisite cakes and chocolates comes out in its creations, made with great flair and attention to detail. No machine can even come close to the standards set by our dedication. Each creation is therefore unique. Perfectly fresh for true enjoyment.
...to mouth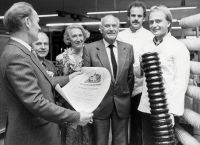 1982- 50 Years Heinemann
Succumb to new temptations
Hermann Heinemann already had ideas for tempting sweet delicacies. His ambition to create new masterpieces has remained a part of the company culture even after his death. New creations are tested daily.
You are always welcome to try out our new temptations. We look forward to your visit.